Helpdesk
Service Menu/Merits of deployment/Image of deployment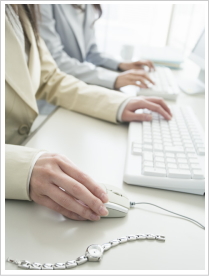 Experienced helpdesk
For questions/inquiry from office end-users, such as troubleshooting methods or operating methods of hardware/software, we SystemSquare answer accurately by telephone or e-mail on behalf of the information system division.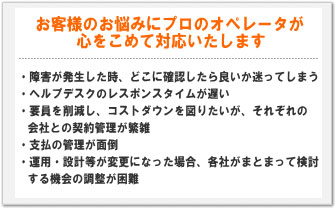 Helpdesk service menu
Customer support
1. Service on processing requests

Accept processing requests and report processing result

2. System user support service

Response to inquiry on How to use business applications
Response to inquiry on How to use/operate business devices
Consult on OA tool (Excel, Word, Access)
Fault management
1. Log collecting/analyzing/handling/reporting

2. Equipment/Network trouble shooting
Merits of Helpdesk deployment
From the feature that the solution business is a single window service, we are implementing the most appropriate management schedule and personnel assignment in every services.
We can work closely together and provide cost-reduction by speedy information communication with close cooperation.

Image of Helpdesk deployment