Voice of senior staffs
Akira Kubota, SI Business Division
Open system development engineer
(Joined in April 2010)
At SystemSquare, we have many large projects that you can develop yourselves further and we are blessed to have so many reliable friends!
SystemSquare is attractive due to its large and diverse amount of work. If you work at SystemSquare, you will gain a lot of experience. If you are a forward-thinking engineer, a person who can clearly define what he wants to do, or someone who looks forward to a new challenge or a task with a high level of difficulty so as to improve yourself, you will surely find a satisfying job with us. In addition to our self-created development projects of groupware "works", SystemSquare is now engaged in a multitude of large projects, which will allows you to immerse yourself in the world of manufacturing. For an engineer, the greatest joy is to undertake a project from start to finish. You will be able to practice not only your technical skills but also human skills. Despite being a rapidly-growing company, SystemSquare's employees are very close to each other regardless of their positions, so all you need to do is get ready to learn as much as possible.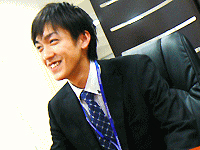 Yusuke Endo, SI Business Division
Open system development engineer
(Joined in July 2010)
We feel that we are carrying the company's growth on our shoulders. We are learning a lot from our senior colleagues.
I want to realize all of the client's desires with our new system.
I joined SystemSquare with a view to making the above-mentioned dream come true. Actually I did not possess a lot of practical experience in the beginning. When I first started, I had to face many difficulties and felt insecure but there were many other engineers who were also in their 20s, so I felt that I could fit in quickly. I realized that the team of young employees was the source of motivation behind SystemSquare's growth. Furthermore, as a developing company SystemSquare can offer many opportunities which are an incentive for its employees. Although I am a new comer, I have acquired valuable experience. For example in terms of preparing for the start of a project or participating in meetings, etc. At present my job mainly involves SystemSquare in-house development, I don't need to care too much about my surroundings and can do my work with ease of mind because I can ask for help from my seniors if I don't understand something. For me, everyone in the company is my senior who deserves respect and admiration both as an engineer and a person. It is safe to say that SystemSquare offers an environment that enables us to grow both our technical and human skills.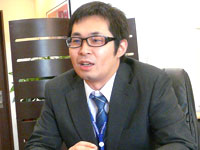 Yuichi Tanida, SI Business Division
Open system engineer
(Joined in September 2012)
The turning point of my life – joining the IT industry. SystemSquare is where my abilities are trusted.
I worked in the real estate industry before. Although I was interested in IT since college, I could not find work at an IT company as I was a graduate of social studies. In my previous job, I had a comfortable life but when I approached the latter half of my 20s and got married, I had a feeling that "this is the last chance for me to take up a challenge and do the work that I love". I went for an interview with SystemSquare. The interviewer said to me, "the road ahead is wide open for you now, this interview is not the end. From now on, challenge yourself with lots of work at SystemSquare". Breathing a sigh of relief, I felt extremely happy. Finally I had taken a step into an area that I loved with comfort. At first, everything was new to me, but by learning from my senior colleagues and giving myself opportunities to expand my knowledge, I gradually became knowledgeable. Currently I'm in charge of web applications. There are many new people around me who have just joined the company and don't have any experience, but I believe that this is the right environment for us to increase our motivation. I feel that I have grown the most in the past year and it was the most fulfilling year ever for me.