Crime prevention and surveillance system
DEFENDER-X
All security softwares would become the past
---
Detect the person having high potential of being suspicious among many people within at least 3 seconds.

Immediately save sound notification and snapshot (picture data) as soon as detecting the suspicious person.
DEFENDER-X is a prevention system which warns of disaster by extracting human's oscillating component based on picture data from monitoring camera.
Introduction video
---
DEFENDER-X - System of detecting suspicious person

System Square Corporation is the distributor of DEFENDER-X
DEFENDER-X principle
---

Analyze to detect suspicious person based on an over-200-pattern data taken from a over-100,000-participant human experiment which is conducted within military development process in a long term.

DEFENDER-X structure and example of display
---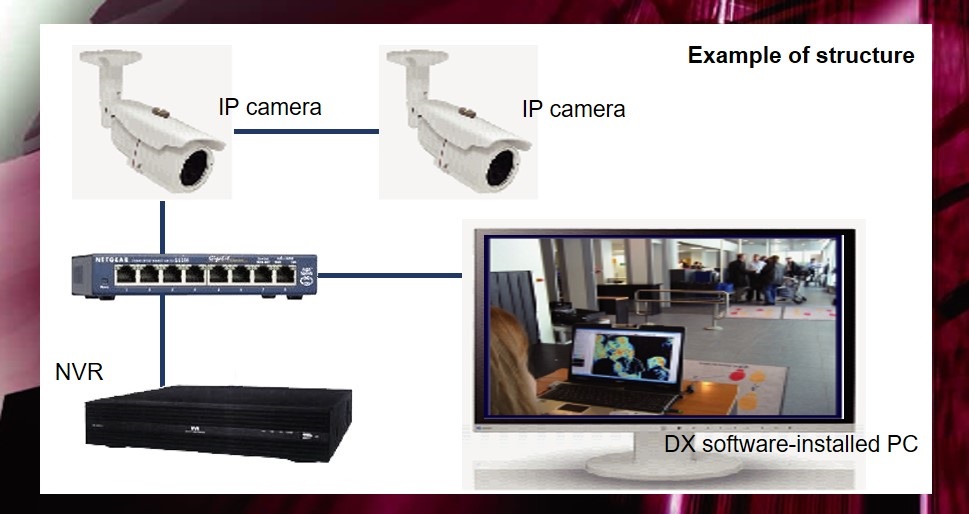 Example of display
DEFENDER-X features
---
DEFENDER-X automatically analyzes mental status (feeling, emotion) of human beings and detect the potential criminals in advance.
It is easy and simple to install into the existing crime prevention and surveillance system, and able to be utilized for various purposes.
It makes contribution to build a safe and secure society by new technology.
It detects the suspicious person at the time of intrusion and

prevents criminals

by tracking and asking for support

(Traditional surveillance camera systems only record crime behaviors. )

It does

not need database collation

, but can detect in advance suspicious person based on many indefinite points

(Method of collating criminal database [Face recognition / Pattern recognition] cannot detect anything except data.)

This system can detect suspicious person from not only real-time surveillance image but also

recorded image in the past

(This system contributes to specify the criminal and provoke a timely response for the situation as well as enhance prevention of unexpected circumstances.)

It is

easy to be added to the existing surveillance camera system

without any influence

(If the existing system is still working well, DEFENDER-X can be added to reduce the cost)

Used for various purposes.

Besides the obvious aim of enhancing prevention of internal and external crimes, the system also avert damage caused by drugs.

It can achieve the efficiency of timely response to and prevention of criminals.
Actual achievements of DEFENDER-X
---
Verification result at Sochi Olympic
Defense status
Checking result
Number of pavilion
17 locations

(262 gates)

Number of visitors
2.700.000 people

(At peak period: 120 000 people/day)

Number of installed surveillance camera
262 cameras

(1 camera/1gate)

Number of people

passing by at 1 gate

1200 people/day
Number of installed set
131 set

(2 cameras/1 set)

Number of detected

people at 1 gate

5 - 15 people/day
■Defense result (Number of detected suspicious people: about 2620 people/day)
92% of people who were detected to be suspicious by DEFENDER-X were found the reason to be refused to enter.
Among them, 72% brought drugs, alcohol, gunpowder while 8% had unusual behaviors and another 20% of other reasons such as no ticket, etc.
Analysis and Decision making error (Probability of error): 8% people got detected by mistake.
Due to no crime during the Olympic, rate of failure to catch crimes is 0%.
---
DEFENDER-X is currently used for a variety of business fields in Japan and 19 other countries.
Implemented places in Japan ※ Only show information approved to be public by customers
Ise-Shima summit:

Installed for Security gate around the hall

Rugby World Cup - Matches watched by the Emperor:

Installed at the entrance
Besides, the system is also working at banks, amusement parks, stations, shopping centers, factories…

System Square Corporation is the distributor of DEFENDER-X